Solar PV Module Certification World Map
Learn everything about Solar PV Module Certifications?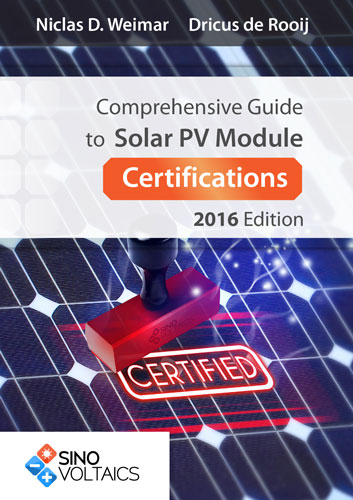 DIRECT ACCESS
<<< Click here to get direct access >>>
What topics are covered in this guide?
Know every International Quality and Safety Standard for solar panels
National quality and safety
standard requirements from
A – Australia to U – Uganda
Understand the Major Lab Tests
for quick certification
300+ pages: the first, and only
Complete Guide on solar panel certifications
Discover the major Certification Bodies, their roles and limitations in the PV industry
New 2016 release: 2nd Edition!
Insights into the development of New Quality and Safety Standards
Critical analysis on the relationship between PV certifications and
Solar Module Quality
Practical insights into the
Solar Module Certification Process
Discover the typical reasons why manufacturers Fail the Certification Process
Pick the latest certification standards that will give your business an advantage in the industry
Exclusive Expert Interviews
DIRECT ACCESS
<<< Click here to get direct access >>>
View the detailed Table of Contents
Click here to Download the Table of Contents (.PDF)
of the Comprehensive Guide to Solar PV Module Certifications

DIRECT ACCESS
<<< Click here to get direct access >>>
Get Access Now
Price:
USD 599,-
All common payment methods, including VISA, MasterCard,
American Express and Paypal are accepted.

© Sinovoltaics Group Limited | Comprehensive Guide to Solar PV Module Certifications