"Do You Want To Avoid The Mistakes
That Over 80% of Solar Panel Buyers make?"
---
Since 2010 over 600,000 solar panels did not reach their 25+ years end of lifespan. And that's in Europe alone!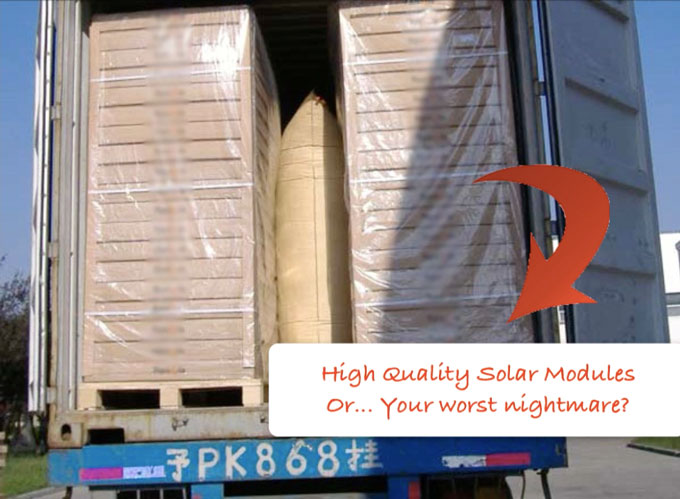 All these solar panels had to be recycled by PV Cycle and they are only the tip of the iceberg..
How did uninformed purchasing affect the solar businesses that bought over 600,000 malfunctioning panels?
Many companies, which started in the solar industry, have been crushed by mistakes and information gaps when purchasing solar panels and went out of business.
They've been badly affected by costly technical data frauds, useless warranties, inappropriate insurance coverage, unsafe packing, severe quality problems and other purchasing-related problems..
We don't want this to happen to your company!
---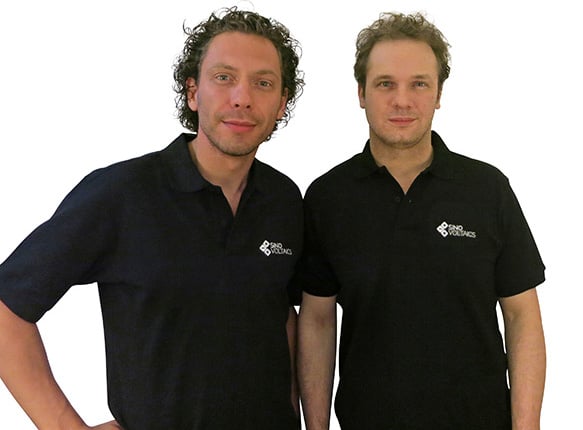 We are Dricus and Niclas and in the past 8 years we have both worked in the solar energy industry in Asia:
After purchasing 350MW+ of solar panels, setting up a PV factory in China and running a PV Quality assurance and consultancy company, we have seen all the good and ugly practices of solar panel manufacturers in this part of the world..
Since the early years, we helped a growing number of companies from all over the world to buy quality solar panels in China, Malaysia, Taiwan and other parts of Asia and provide technical and quality consultancy for a large variety of PV projects.
8 Years of working in the PV industry in China and Asia…

---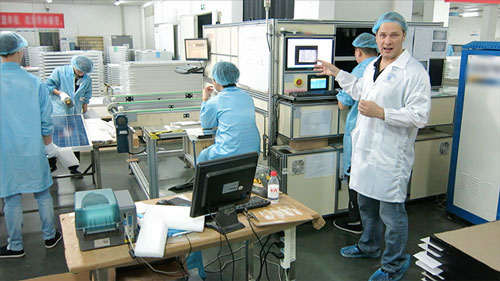 In those years, when the PV industry in the Far East was at infancy, a lot of low quality panels were produced… well, you can more precisely call them rubbish.
And this even from manufacturers that nowadays call themselves Tier 1…
For us, advising and insisting on best practices, risks and quality dangers has been tough, not only because most manufacturers don't have any idea about professional quality control, but cheap panels and thus quick money for both suppliers and buyers have been king.
Consequently, many solar panel buyers have been falling victim to frauds from suppliers, chose wrong cell technologies for their projects, lost time and money with improper logistics arrangements or received containers full of broken panels with no warranty to cover this.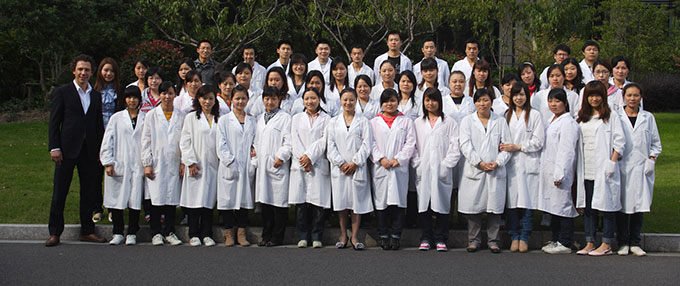 2011: Dricus with first Chinese staff, setting up a PV factory in China
Through our yearlong work, we came across numerous pitfalls… and also found that the majority of solar panel buyers lacked essential insights from boots on the ground that could have prevented costly mistakes early on.
In many cases, we were contacted in the aftermath to troubleshoot and helped solving these complex problems before they could even turn into the death sentence of their businesses.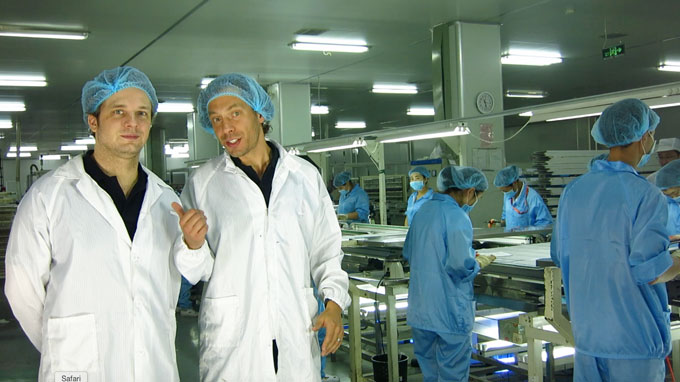 No doubt: things have improved in the past decade, though unfortunately not changed.
Product cheating, scams, forged performance data, fraudulent documents or obscure suppliers are still the order of solar panel purchasing business.
We still witness and combat these every week…
In this context, we have been receiving lots of enquiries asking us to create a guide that covers the complex multitude of dangers and traps and explain strategies to prevent them.
As the enquiries grew in numbers, we finally decided to turn our experience into a comprehensive
Online Video Training and develop this Ultimate Solar Panel Buying Guide.
How can you make sure that from now on
you prevent the same mistakes that other solar panel buyers made?
Discover our Formula for Advanced Solar Panel Buying…
---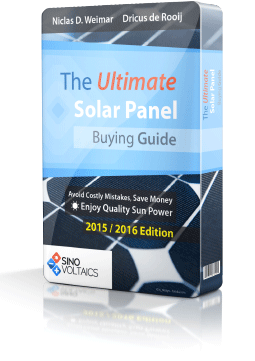 The Ultimate Solar Panel Buying Guide is built on many years of industry experience, covering manufacturing, quality control, sourcing, logistics and project development.
During our time in China, India, Taiwan and other Asian solar panel manufacturing sites, we have witnessed all kinds off problems, tricks and hidden costs that come up when purchasing solar panels
In response we created this much requested and needed comprehensive solar panel buying guide.
Everything you need to know for problem-free solar panel buying:
Suitable for any solar PV business (installers, distributors, wholesalers, EPCs, financial institutions, NGOs, merchants etc.)

No more scams, no more quality defects, no more waste of time and money

Hands-on formulas and solutions for all intricacies and pitfalls of buying solar panels

Master all steps: from initial solar cell assessment to final solar panel shipment
Exclusive insider strategies and know-how from the team that worked since the early PV years on-site in Asia

Professional decision-making: run a trouble-free, successful and reputable PV business

No experience and no technical expertise required. Our guide goes from A to Z

Use our combined 15+ years of PV industry experience to leave your competitors behind
Module 1 – Solar Cell Grading
Recognize different solar cell grades and avoid unknowing purchasing of low grade B and C solar modules
Solar cells are the most important component of a solar panel and make up over 50% of the panel's value. Solar cells are also the main component that manufacturers try to cut costs on.. The current market is full with Grade B and Grade C solar panels and often buyers don't even realize what Grade their manufacturer is supplying. This module teaches you everything you need to know about Solar Cell Grading.
Understand the essentials of Solar Cell Grading
Distinguish between all solar cell grades
Master professional solar cell quality testing
Avoid purchasing low grade B or C solar modules, while you require Grade A
Module 2 – Quality Defects to Avoid
Identify solar panel quality defects and avoid being cheated by your supplier
Having performed quality inspections on-site at close to 100 PV factories in Asia for the past 8 years, we've come across any solar panel defect imaginable. This module provides a comprehensive overview of these quality defects, including photos and descriptions. It will make sure that, for your next purchase, you'll be able to recognize and avoid the major solar panel quality defects.
Each defect is presented with detailed photos and descriptions
Identify and pre-empt the causes of each quality defect
Make professional quality assessments
Learn to perform a professional visual inspection on any batch of solar modules
DIRECT ACCESS
Click here to get direct access >>>
Module 3 – Solar Panel Warranty
Discover the most important clauses in warranty policies and prevent major issues

Solar panel warranty policies are legal documents that need to be considered carefully before purchasing solar panels. Our team has analyzed the small prints of major Asian Tier 1 solar PV panel manufacturers, incl. Trina, Jinko Solar, JA Solar, Suntech, Yingli, Sunpower and more. In this part of the training we go through the important small prints in the warranty policies and highlight and explain the clauses you should be aware of.
10 important clauses to pay attention to when purchasing solar panels from Tier 1 or Tier 2 manufacturers
Understand the different warranty policy types
Learn to identify pitfalls in solar panel warranties
Prevent major warranty issues
Steps to follow when you file a warranty claim with a manufacturer
Module 4 – Solar Panel Insurance
Understand PV installation risk and know how to pick the right insurance policies
Solar panel insurance is quite a complex topic. This Module gives you insight into the field of solar insurance. We provide you with an analysis on the actual risks in this industry, the types of insurance products available, the main insurance companies and brokers and discuss several insurance products.
Analysis of the risks you encounter when developing PV plants
Discover all the different solar insurance product types on the market
A complete list of all PV insurers: both insurance brokers and underwriters
What essential details to pay attention to when purchasing solar insurance
Insurance policies for all stages of PV system development
DIRECT ACCESS
Click here to get direct access >>>
Module 5 – Solar Panel Certifications
Learn about all major solar panel certifications worldwide and which are required in your country
Solar panel certifications have become a sub-industry of its own. Besides being related to safety, certifications are often linked to market access: FIT's, tax credits, import requirements and so on. In Module 5, we will look at all the common and important standards and certifications you will need to know about and deal with when purchasing solar PV modules.
Understand all major quality and safety standards
Know the certifications required in your country
Learn how to identify fake or expired certifications
Assess the loopholes and constraints of solar panel certifications
Module 6 – Scams
Learn what others have been through and protect yourself from being scammed
A critical attitude is crucial when purchasing solar panels from overseas. Over the past years we've encountered multiple tricks and scams by manufacturers and suppliers that can damage any company purchasing solar panels. Module 6 explains major scams and counterstrategies.
Identify the most common tricks and scams from PV manufacturers
Avoid scams efficiently, without losing time and money
Learn how you can develop counter strategies against scams
Learn from our team's real life scam experiences
DIRECT ACCESS
Click here to get direct access >>>
Module 7 – Technology Insights
Understand the different solar cell technologies and pick the right technology for your project
To make correct purchase decisions, it is important to understand what technologies exist in the market, what a solar PV module is actually made of and what are the critical qualitative features of the different components. Module 7 provides a technology roadmap of the currently available solar panel and solar cell technologies on the market.
Make correct purchase decisions with this solar panel technology roadmap
Pick the right technology for your projects
Understand the technical and functional details and weaknesses of solar panels and components
Be well informed about the available and latest PV technologies on the market
Module 8 – Solar Panel Packing
Use best practices in solar panel packing and make sure your goods arrive undamaged

There's nothing worse than purchasing a batch of solar panels and discover upon arrival that your goods have been damaged during transport. Unfortunately we've seen solar panel shipments going wrong multiple times and often packing mistakes could've easily been avoided. For that reason we've included Module 8. This module explains the best practices in solar module packing and will help you to safeguard the sound state of your solar panels during transport.
Discover best practices in solar panel packing
Materials required for safe solar panel packing
Explain your manufacturer in detail how you want to have your solar panel shipments packed.
Avoid micro cracks and other costly damages during transport
DIRECT ACCESS
Click here to get direct access >>>
Module 9 – Solar Panel Logistics
Master solar panel logistics and save time, money and stress by handling any logistics by yourself
Going global with your company means adding time and distance to your supply chain. Those two factors add cost, complexity, and frequently risk. Handling the logistics of solar panel shipments can be complex and there's a good reason why large companies have their dedicated logistics department… Module 9 gives you all the knowhow and tools to control your solar panel shipments by yourself.
Complete, detailed solar panel logistics walkthrough
Save time and money by making clever logistics partner decisions
Detailed overview of logistics documents that you need for shipping
Use the free shipping document templates included
Get Direct Access to
The Ultimate Solar Panel Buying Guide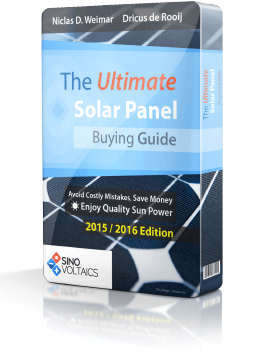 Price: USD 1,297


.
BONUS: An Exclusive Solar Panel PV Factory Video Tour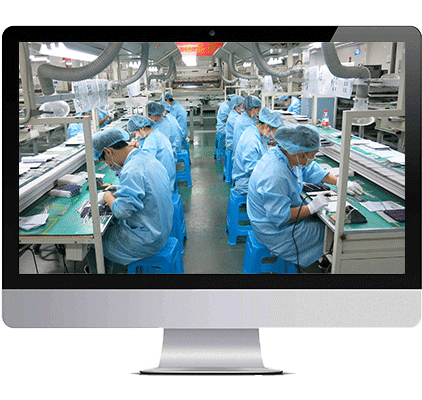 Exclusive Asian panel manufacturing insights
Solar panel production process from A-Z
Expert commentary
Better than a real tour!
BONUS: Solar Panel Buying Checklist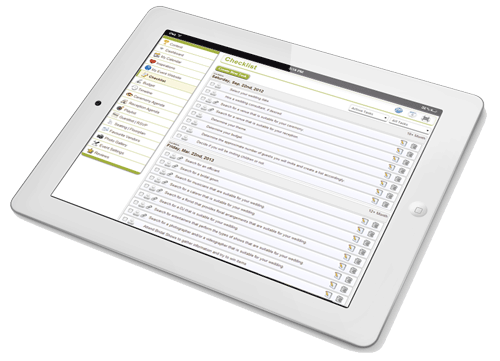 Comprehensive and Unique purchasing aid
Covers all aspects of solar panel buying
Easy to understand and use
Excellent tool to make sure not to miss anything
© Sinovoltaics Group Limited | The Ultimate Solar Panel Buying Guide