This article is an extract from the Webinar that Sinovoltaics hosted together with GME on 20 October 2021. You can re-watch the Webinar by clicking on the link below:
—>> Re-watch the Webinar featuring GME discussing PV Asset Optimization and Quality Assurance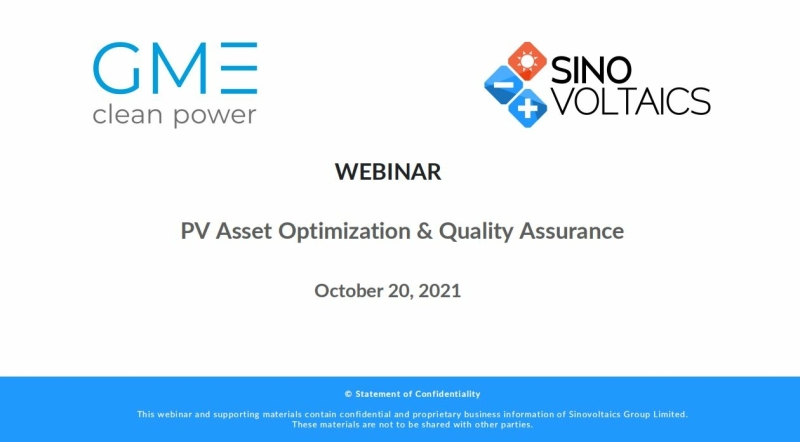 GME clean power AG was founded in Unterhaching, Germany in 2018. The company is a subsidiary of GME GmbH – a design and engineering service company in the semiconductor business, which has evolved into an international innovation and technology leader since it was founded in 1981. (Source: GME Clean Power)

Quality Issues

The quality issues for large-scale existing projects usually concern one aspect: bringing solar assets back on track by optimizing them. When running large PV projects, anyone in the industry knows that it's not easy to deal with the maintenance processes as every part of the installation requires regular maintenance. Although it may sound very straightforward, in reality, there are many challenges.

Someone handling multiple projects will have a decent amount of cash flow to operate with maximum performance and gain the optimal results of PV assets. However, there is not a single perfect PV project. In most projects, we can still notice several technical problems or other issues related to performance loss. Of course, these issues should be fixed as quickly as possible to increase the performance to its optimal level and consequently the ROI of the project concerned.

If issues are not correctly taken care of, they might create particular challenges that could endanger a responsible party. During an inspection, we may notice several errors and problems related to installation and construction. There are even some small errors that may violate warranty terms. For example, if the clamping range is not placed in accordance with the module manufacturer's manual, this could violate the warranty terms.

These issues are called installation errors, which could lead to more problems in the future. It might also lead to a concern for structuring, a claim that may always be used as an excuse by the manufacturer, stating that there has been an improper installation. Aside from the clamping problems, others issues can be related to other parts such as cables, routers, or modules.

Understanding The Problems

Implementing PV Asset Optimization is better if you recognize the failures and problems earlier because at an earlier stage it is easier to solve the issues and the damages can be limited. While most issues are related to the PV modules, other components should also be looked at carefully.

Implementing PV asset optimization starts from engaging in Performance Analysis and executing the fixes. Let's first start with the Performance Analysis.

Performance Analysis

It's crucial to do Performance Analysis with an on-site evaluation with experts to understand the conditions better. The experts will be there to inspect and screen the solar asset through different approaches to find the root causes.

Solar Assets often suffer from low performance due to:
•    Engineering and Design Errors
•    Construction and Installation Errors
•    Product Defects
•    Out-dated Technology
•    Project Specific Influences (e.g., Soiling, Shading)
•    Poor Maintenance

How to find the root cause of performance problems:
•    Inspection and screening by experienced solar experts
•    State of the art measurements
•    Unique CTPM  for PV plants without single string monitoring
•    Transparent and to the point site reports including clear recommendations for actions

Claim Management

As part of PV Asset Optimization, Claim Management can be used to bill the product warranty while putting the detailed information on the reports. After the investigation, there will be sufficient documentation to explain the problem better to the manufacturers.

Since most photovoltaic projects are about 10 years or older, we certainly will not have the same exact modules in the future so simply replacing them with the same module designs and models will be impossible. We will have different technical parameters or machinery that are unsuitable for old design parameters. Therefore, we have to perform conceptual redesigning and development and also make sure that they comply with the regulations.

The PV Asset Optimization Concept aims to find the root cause of performance problems through:
•    Inspection and screening by experienced solar experts
•    State of the art measurements
•    Unique CTPM for PV plants without single string monitoring
•    Transparent and to the point site reports including clear recommendations for actions
•    Re-Engineering
•    Procurement Management
•    Vendor qualification
•    Time schedule
•    Construction and logistic plan

As for the average amortization periods, it differs. Sometimes we find errors related to optimization potential. It may be a small issue that needs to be solved and needs to be amortized within 1 to 2 years, but there are definitely other more challenging potential issues, including fast exchange of modules, in which the amortization could definitely rise to 6 or 7 years. So, it varies greatly, then the average amortization period of these projects would be about 5 years.

Case Study


The first case study is an analysis of an entire portfolio of a major investor in the German market: GME examined solar assets of about 200 MWp. The analysis has been used for monitoring and reviewing the data and for power rate (PR) calculations. Regarding how to trust the stress test when monitoring data, monitoring can only be as good as it is configured. Once you can trust your monitoring data, then you can proceed to run several analyses; obtaining great insights.
It is also necessary to conduct many PV measurements to check the DC cabling and installation assistance.

After completing the analysis, the results showed that 1/3 of the investment portfolio had the potential for optimization with a short amortization period.

The second case study involves revamping a 50 MWp project in Germany. First, almost all components were measured in order to find low-performance modules. After assessment with the help of CTPM, a claim was made with an acceptance rate of 85%. Therefore, 85% of the modules were dismantled and sent to the manufacturer. They were then subjected to an in-house flash test by the manufacturer. After acceptance by the manufacturer, the defect modules were rejected and the client received new modules. Logistics were organized by the manufacturer, clarifications were provided to conform to the law, and as a result, the revamping of the power rate (PR) and consequently the Internal Rate of Return (IRR) of the project increased.

Solving The Problems

The problems can be solved independently or with the help of external parties. Small manufacturers or businesses have to be aware of their responsibility, and together with other responsible parties, take action and find a way to solve potential or ongoing problems. When it all comes together, and the root cause has been found, we can develop control measures through PV Asset Optimization.

Is removing old and installing completely new modules a solution? Of course not. There could be PV projects already reaching ten years or even older ones. And as technology evolves, this requires a deep look into it, finding the different technical structures and mechanical parameters, and doing re-engineering to apply the right concept of PV Asset Optimization that works with it.

Quality Assurance at the factory

Using the correct bill of materials is a very crucial element. In an example case, a  client wanted one specific type of module, but the factory had three certified material combinations. The client wanted to know which one was the best option for long-term performance.

The client performed reliability testing, and for each bill of material, they collected 8 samples. First, they performed LID measurement and characterization, including EL image analysis, installation tests, and examining leaks.

The client also opted for accelerated aging testing which goes beyond a standard certification test. This test pushes the modules to the limit or even over the limit. The goals are to identify which material combination is the strongest, which modules will last the longest, in which material combination the power outputs are coming down the quickest, etc. This test run allows for proper decision-making, keeping in mind that a project developer wants to ensure long-term performance. Therefore, you want to be working with the best possible product.

The final step before the module are shipped is packing and loading supervision. There are many good practices in terms of classifying modules during packaging and loading. It is crucial that the module that has been inspected is the actual module you end up receiving. As a PV project developer, you really want to be completely certain that orders aren't mixed up.