With the U.S. senate passing the The Uyghur Forced Labor Prevention Act on 14 July 2021 to ban any imports of products from China's Xinjiang region, the solar industry is looking at a major reshuffling of raw material supply. Importers of PV modules face a challenge in ensuring only ethically manufactured raw materials are used. While importers have to start taking into account US customs requirements, PV project developers soon realised this is not just a USA related issue. This article explores the background of the Uyghur Forced Labor Prevention Act (H.R. 6210), looks at the impact on PV module importers and introduces the available Traceability Audits as a solution.  
What's the The Uyghur Forced Labor Prevention Act?
The U.S. government has identified forced labor as an area of concern for the solar supply chain in China.
The Uyghur Forced Labor Prevention Act presumes that any goods manufactured in Xinjiang province are made with forced labor and therefore banned under the 1930 Tariff Act. Unless the contrary has been proven, this ban applies to all solar components manufactured in Xinjiang and thus leaves the burden of proof with the importers in the U.S.
SEIA Solar Commitment
In line with the passed legislation in the US, already in 2013 the SEIA launched "Solar Commitment" (the Solar Industry Commitment to Environmental & Social Responsibility). The SEIA outlines the common practices and expectations for environment, ethics, labor, health & safety, and management systems.

Xinjiang, China, the polysilicon manufacturing base of the world
The Xinjiang region in China is one of the lowest cost manufacturing bases due to its very low electricity pricing from its coal-fired power plants. The region is known to be the #1 manufacturing province in China for polysilicon: the base material for wafer ingots used for the production of solar cells.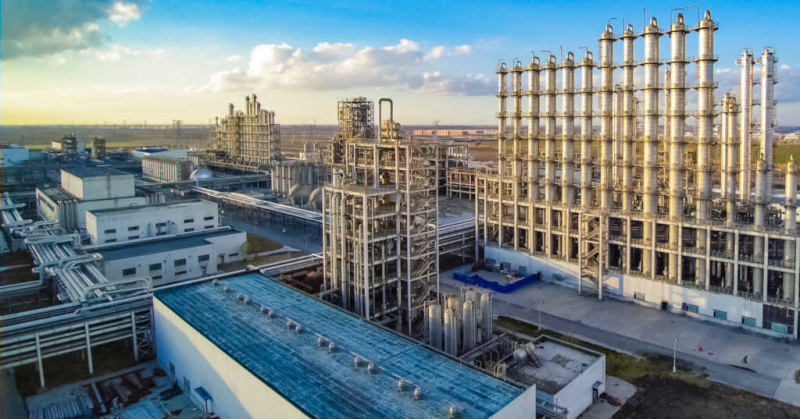 Daqo New Energy - polysilicon manufacturing in Xinjiang. Source: Daqo New Energy 
Currently 5 out of 6 of the largest polysilicon manufacturers are from China, and with a 80-85%,market share, China is dominating the production of polysilicon.  

The vast majority of polysilicon production in China comes from Xinjiang and amongst the Chinese polysilicon manufacturers, Daqo, GCL, Xinte Energy and East Hope all have polysilicon manufacturing plants in Xinjiang.
And as common in the industry, long term poly silicon supply contracts are publicly announced. Some examples:
May 12, 2021, Xinjiang Daqo New Energy signs long-term high-purity polysilicon supply agreements with a subsidiary of JA Solar (SZ:002459).
Dec 16, 2020, Xinte Energy signs a long-term order for polysilicon supply with fellow Chinese producer Xinte Energy.
What's the impact for importers of PV modules?

From early 2021 when concerns came up about the social impact of pv module manufacturing, it soon become clear that the industry was not prepared for this: there's close to no transparency beyond the wafer supply chain. Poly silicon supply is often mixed and the origin is typically not known to buyers.
Sinovoltaics has seen Importers of pv modules adding the requirement about non Xinjiang poly silicon as a pre-qualification question in their RFP's. The initial reaction of importers has been to request clarification from their PV manufacturers to ensure no forced labor was used during the (raw) material production of PV components. While such clarification, in the form of official letters issued by the PV manufacturers, does offer some reassurance, it does not grant the certainty that U.S. importers or U.S. customs require.
While importers from the US have the legal obligation to prove to US customs that no raw materials from Xinjiang region were used, European counter parties dot not have such legal burden, however many have expressed concern about the social impact of possibly importing PV modules manufactured using forced labor.
For this reason Sinovoltaics has developed traceability audits that offer full transparency in the PV manufacturer's supply chain. 
Factory audits: Traceability and transparency – what's new?

Traceability audits in the solar energy industry have been around for many years. 
Over the past decade, the EU, U.S. and India at some point have all placed tariffs on PV module imports from China. These tariffs have led to questions such as 'where have these solar cells been produced?' and led to standards and services by Sinovoltaics for the traceability of components.

Additionally local content requirements in various countries have also led to the requirement of understanding the exact Bill of Materials (BOM) of PV modules and the provenance of raw materials. As a result, purchasing pv modules with a fixed BOM has become the norm. 
Another example can be found in France, where pv projects using low carbon footprint wafers and cells for solar modules are prioritised. 
Transparency of the PV Supply Chain has been required from many years and Sinovoltaics has been offering such traceability audits since 2010.
Does your company need to trace the provenance of PV modules and their raw materials? Benefit from Sinovoltaics' dedicated, IRCA-accredited audit team. Get in touch with our team and we'll inform you about the possibilities.