In this article
Table of contents
Articles in this category
Solar Panel Direction: what direction should solar panels face?
The conventional understanding is that the ideal solar panel direction is facing South. However it has been proven that West facing solar panels can produce more power.
Pick the right location and solar panel direction
If you are looking to achieve cost savings by installing your own solar power system, it is highly recommended that you put some time aside and carefully analyze and determine the right location for your solar panels. The optimum place to install solar panels usually depends on the position, inclination and its orientation towards the sun.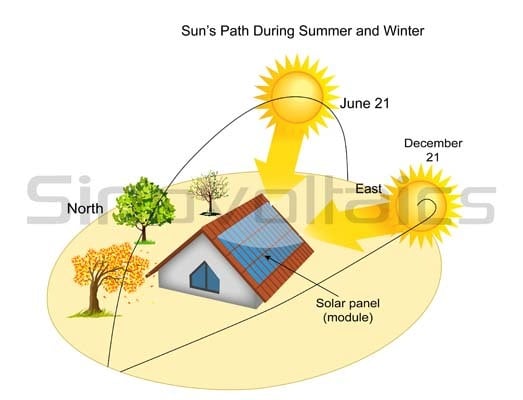 Solar panel direction during Summer and Winter
Recent study reveals some interesting facts
The conventional understanding is that the solar panel facing south (in locations north of the equator) will receive the most sunlight. This is correct to a certain extent however recent studies have proven differently: According to a new study from Pecan Street Research Institute, West-facing rooftop solar panels produced 49 percent more electricity during peak demand compared to south-facing panels [1]. This research was conducted and data was collected from fifty homes in Austin, Texas, which had solar panels installed in different directions. Some homes had only south facing panels, some only west facing panels while some had both.
 Solar panel direction - Northern and Southern Hemisphere
Solar panel direction: best direction for my panels?
The most optimum direction to face your solar panels is somewhere between south and west. It is at this location that your panels will receive the maximum sunlight throughout the day. If your roof does not face the right direction, then surface mounted panels or pole mounted panels may be your best bet. Alternatively you could adjust the angle of inclination of the panels to a certain degree to offset the effect of direction. For example if your roof is facing 10 degrees west towards north, you could reduce the tilt angle of your panels by 3 degrees. This would produce the same electricity as with a panel which is facing true west.
References:
[1] Article by Katherine Tweed, November 14, 2013 from Green Tech Media http://www.greentechmedia.com/articles/read/are-solar-panels-facing-the-wrong-direction.