In this article
Table of contents
Articles in this category
HSAT Trackers
HSAT Trackers: Design and Application
There are several implementations of
single axis trackers
like the horizontal single axis tracking (HSAT), horizontal single axis tracking with tilted modules (HTSAT),
vertical single axis tracking (VSAT)
,
tilted single axis tracking (TSAT)
and the polar oriented single axis tracking (PSAT). Horizontal single axis solar tracker (HSAT) is used to increase the generation potential of the sunlight by tracking system. HSAT tracker design is now commercially successful and has now established a stronghold in the single axis solar tracker market.  
Design and Working principle
A horizontal single axis tracker rotates from east to west on a fixed axis, which is parallel to the ground. In addition, the tracker is navigated by a small motor/actuator, which rotates east to west between rows of panel mounted on torque tubes. Furthermore, horizontal trackers typically have the face of the module-oriented parallel to the axis of rotation. As a module tracks, it sweeps a cylinder that is rotationally symmetric around the axis of rotation. A long horizontal tube is supported on bearings mounted upon pylons or frames. The axis of the tube is on a north–south line. Panels are mounted upon the tube, and the tube will rotate on its axis to track the apparent motion of the Sun through the day.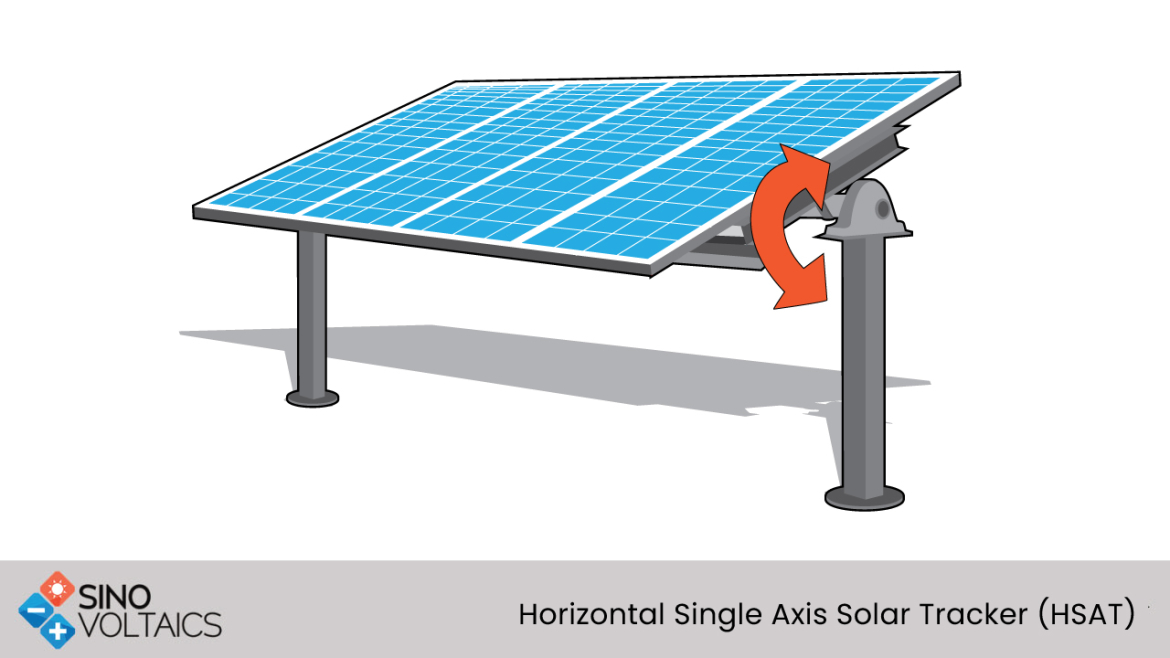 Horizontal Single-Axis Tracker -Global Status
Horizontal single axis trackers account for the most installed capacity globally as far as solar tracker is concerned. Certainly, they are the most common type of single axis tracker design. There are examples of some successful commercial installations in India and China.  
 HSAT Layout advantages and Applications
HSATs have horizontal axis of rotation with respect to the ground. Either end of the HSAT tracker has posts that can be shared between trackers. This arrangement helps in lowering the installation cost. They are very flexible and the simple horizontal tracking geometry enables keeping all axes of rotation parallel to one another, which also helps in positioning properly the entire tracking layout. With appropriate spacing of individual units, energy can be produced efficiently, which can maximize the monetary
return on investment
. HSATs mostly find applications in low latitude regions. And because of their enhanced efficiency in sun tracking and the improved energy production, they find applications in utility-scale solar plants. HSATs also reduce complexity of arranging AC/DC power source for drive operation. Also, they are highly reliable and entail low maintenance. Overall, these systems are preferred even if being slightly costly and their rising demand is expected to create business opportunities for market players in the next few years.